The entire Deer Management Group area extends to 45,540 hectares. The estates are all privately owned and principally managed as sporting estates. Much of the area to the southeast falls within the Strathglass Complex Special Area of Conservation (SAC). This links together a number of Sites of Special Scientific Interest (SSSI).  Parts of the West Monar and East Monar estates, to the northwest of the Management Group, also fall within a separate conservation area, the Monar Forest SSSI.  The eastern part of Strathfarrar lies within the Glen Strathfarrar National Scenic Area. The Glen Strathfarrar National Nature Reserve was de-declared in 2006.
The DMG area includes some very attractive scenery, with Caledonian pine forest rising up the hillsides from the River Farrar.    These fine stands of native pinewood represent one of the most important remaining fragments of the ancient Forest of Caledon.   Braulen, Culligran, Struy and Glen Cannich estates have all been involved for nearly 40 years in various programmes of fenced exclosures to encourage natural regeneration of native woodland with significant success.
The area is popular with hill walkers, containing over a dozen Munros and several Corbetts. There are several popular routes and circuits (please note the map is for indicative purposes only and should not be used for navigation).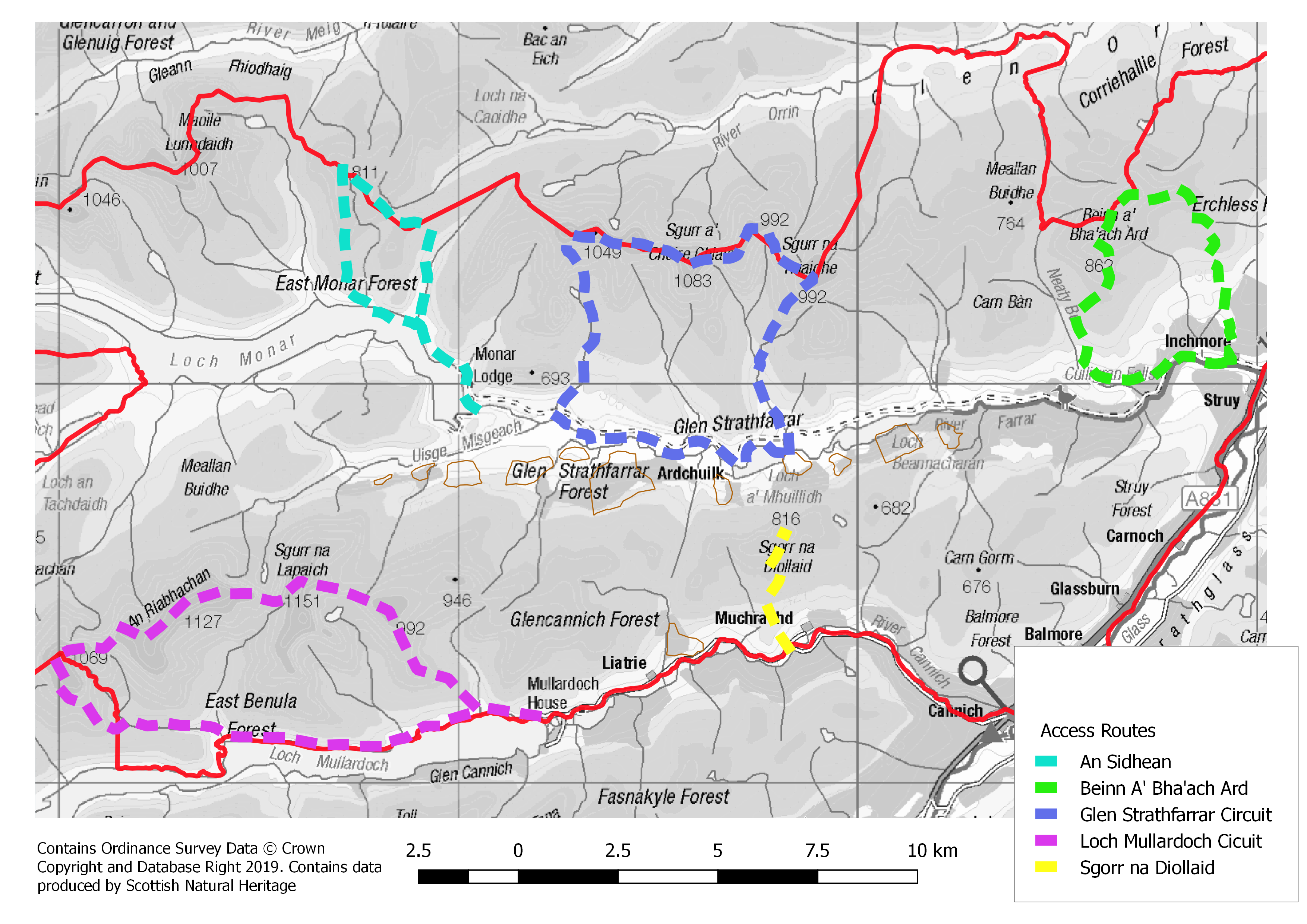 Access is welcomed by the Group and additional information relating to access during the stalking season can be found on The Heading for the Scottish Hills website.
Red deer are present throughout the range and some limited numbers of roe deer utilise the woodlands towards the east of the area.  Sika are seen occasionally.   Professional deer management by resident stalkers remains the main source of employment in the area supporting 13.5 Full Time Equivalent jobs and bringing in around £330K income to the area through the letting of stalking, venison income and provision of local accommodation and services to stalking clients.